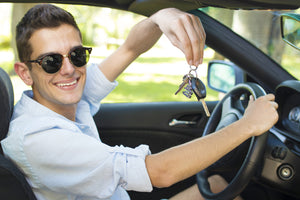 The Behind The Wheel Only Course includes:
14 hours in-car instruction which will include prepping the student to take the driving test to obtain Drivers License.
Registration and use of the on-line drive time scheduling system Schedule2Drive.com One time Non-Refundable $15 Fee payable to Schedule2Drive.com. A-Plus will send email with instructions to open this account.
Completion Certificate – Phase II (Full course completion) (used to get student's license and in most cases allows a 10% discount on the student's insurance)
If Transferring from another Drivers school or online course:  the student must provide to A-Plus Driving School the Transferred DE964 from this classroom course at first driving lesson with A-Plus. After receiving transferred DE964 and completing all driving lessons A-Plus will issue final DE964.
Driving instruction can begin before the student is completed with the classroom instruction, however, this would need to be completed prior to the student receiving course completion certificates required to get their driver license.
Any Student enrolled in a Parent Taught Course will log driving lessons completed with A-Plus on the Parent Log.  A-Plus does not issue final DE964 Certificate for Parent Taught courses.
STUDENT HAS ONE YEAR FROM DATE A-PLUS HAS EMAILED SCHEDULE2DRIVE INSTRUCTIONS TO GET STARTED ON THE COURSE, TO COMPLETE  7 DRIVING LESSONS WITH A-PLUS TO AVOID $100 EXTENSION FEE.

SUMMER IS OUR BUSIEST SEASON. PLEASE ALLOW AT LEAST 10-12 WEEKS TO COMPLETE ALL IN CAR DRIVING LESSONS. 
Full Payment for course guarantees your enrollment.  Make payment online after registration. You will receive notification by email you have paid and registered.
A-Plus will email instructions to get started on this course 24-48hours from email address chantellaplus@aol.com. Be sure to check your spam folder if you do not see the email.
REFUND FEE: $11.84