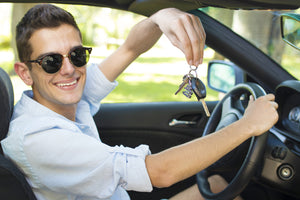 Online Classroom with Behind The Wheel Driving
Is your teen involved in extra-curricular activities or have other time restrictions that make taking the traditional classroom course a scheduling challenge?
Do you want a local company that has a proven track record of providing safe and meaningful instruction for the state required  7 hours of driving & 7 hours of observation.
A-Plus Driving School now offers the best of both, the flexibility of online classroom &  behind-the-wheel driving instruction. (7 hours btw/7 hours observation)
Parent will need to log 30 hours of practice time during the 6 months of your teen holding the permit. A Log can be downloaded from our website under Teen Drivers/Teen information.
How does the program work?
Once the parent and teen determine that online classroom with  Behind the Wheel driving is the best option:
Begin the registration process.
An A-Plus Driving School staff member will contact you within 24-48 hours (excluding Saturdays & Sundays) and will provide you with  instructions on how to begin the course by email.
Once we receive a copy of the completed contract and payment, we will be able to provide you with instructions on how to log in to the website to begin the classroom instruction.
 Please keep in mind the following items:
The classroom will be completed online and the 14 hours of in-car instruction will be completed with an A-Plus Driving School Instructor.  Tuition is $480. *

No Refunds Once Code for Online course has been activated. 

Full Payment for course guarantees your enrollment.  Make payment online after registration. You will receive notification by email you have paid and registered.

REFUND FEE: $13.64 (IF CODE IS NOT USED)

**Tuition does not include:

Registration and use of the on-line drive time scheduling system Schedule2Drive.com. This will be a onetime Non-Refundable fee of $15 payable to Schedule2Drive.com after student obtains the Permit/Learners License.

STUDENT HAS ONE YEAR FROM DATE A-PLUS HAS EMAILED CODE AND INSTRUCTIONS TO GET STARTED ON THE COURSE, TO COMPLETE FULL ONLINE COURSE AND 7 DRIVING LESSONS WITH A-PLUS TO AVOID $100 EXTENSION FEE.

A-Plus will email instructions to get started on this course 24-48hours from email address chantellaplus@aol.com. Be sure to check your spam folder if you do not see the email.